Long Marches - Satyagrahas - 2
Narmada Dam Project - West India
Introduction article
download the full article
(400 KB)
big map
Long Marches - 1
Narmada dam activists organised many long marches, also called 'satyagrahas'. This is a Gandhian expression what means 'truth force'. It is about non-violent resistance.
2000 - Maharashtra - Delhi
Nyay ki Pukar (Long March for Justice), from Maharashtra to Delhi, November 2000.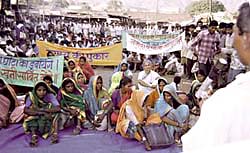 Start of the Nyay ki Pukar at Dhadgaon town, Maharashtra.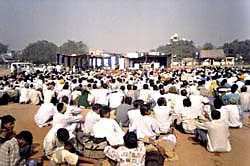 Public hearing at Delhi.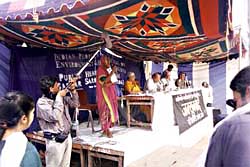 Dedlibai from village Domkhedi, at the public hearing.
2000
Satyagraha, August 2000.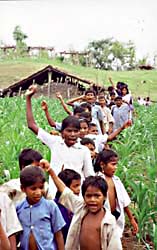 Children marching.
2000 - Maharashtra, Madhya Pradesh
The satyagraha started on July 15, 2000 in the villages Domkhedi at Maharashtra and Jalsindhi at Madhya Pradesh.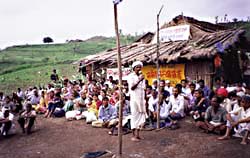 Village leader Baba Muharia of Jalsindhi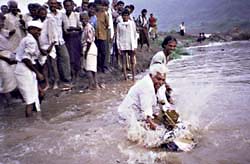 Immersing the "Dam Demon" at Jalsindhi.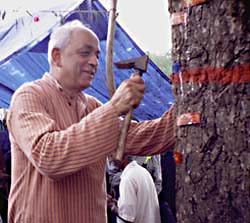 Admiral Ramdas (former Chief of Indian Navy) nailing the plates with village names on the "Tree of Determination" at Domkhedi.
1999 - Madhya Pradesh
Satyagraha 'Rally for the Valley' in the Central India State of Madhya Pradesh from July 30 till Aug 4 1999.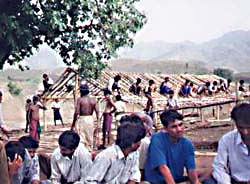 Not only are people refusing to move, more people are coming to the satyagraha site - so the local people have all come together to build another hut - this was completed in a day.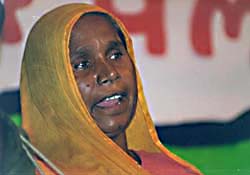 Activists from a farmers organisation from Rajasthan showed their solidarity..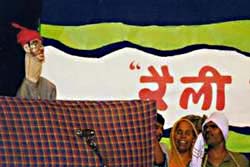 The Rajasthani performed a puppet play.
Go to next page:
photo series other actions
Go to:
overview photo series resistance Narmada Dams
Go to:
introduction article Arundhati Roy
Download the full article
The Greater Common Good
from Arundhati Roy, (400 KB)