No Licence to Kill
Animals Miscellaneous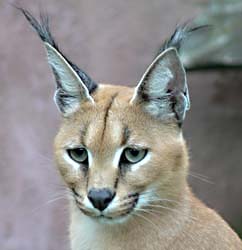 One of the animals, living in the Sariska Tiger Reserve: the caracal,
In the village Pilapanni in the Sariska Tiger Reserve in the north of Rajasthan some peacocks walk around peacefully. Farmer Lakshmi Narain Patel complains: "The government is always telling that local people kill the wild animals. But it is not true. Poachers do, in connivance with the Forest Department. Not the villagers. In our community when a person even only kills a peacock it is forbidden for him to enter the house of his family. First he has to go to the holy river Ganga and take a bath. He has to show a letter from a priest that he got forgiveness for his sins. Only then he will get permission to enter his family house."
* * *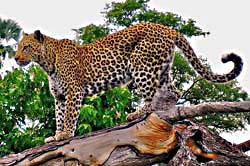 ... the leopard,
In 2005 there was a big scandal in the Indian newspapers. There was not any longer one tiger left in the Sariska Tiger Reserve. The forest dwellers lived peacefully together with the wild animals for centuries. But since the Forest Department is controlling the forest more and more, poachers got the opportunity to kill the tigers. In 2008 the Forest Department brought in a few tigers from another reserve.
* * *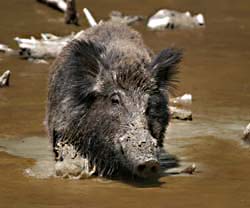 ... the wild boar,
'Sohini, Sohini!' Sarpanch (village headman) Ram Kisore of Pilapanni village calls his buffalo. Together with her calf she comes. The sarpanch start milking on one side of the buffalo, the calf sucks at the other side. When a calf is born, a farmer here will not milk the buffalo the first 15 days. Then there will be a special ceremony with the neighbours. They eat a special pudding. Only then the milking starts.
* * *
... and the striped hyena.
In the tiger reserve is a big hotel called 'Sariska Palace'. It was built in the 19th century as a royal hunting lodge by Maharaja Jai Singh. Now it is a luxury hotel. The most expensive room will cost you 19,500 Rupees for a one night stay. That is as much as the minimum wage for 400 days work. Even when you take the cheapest room you still have to pay 8,400 Rs. It is the salary of 170 days of hard labour for the poor.
Resources
= 'Sting in the Tale - tiger reintroduction in Sariska'; Down to Earth; August 31, 2008:
= Luxury hotel 'The Sariska Palace': its own website and Wikipedia

Go to next page: photo series Lohar tribe
Go to overview articles Rajasthan