Nomads Looking for a New Future
Read more about Upkar Sansthan in the article Green Paradise.
In earlier days the nomadic Gadia Luhar tribe did a lot of transport with bullock carts. But nowadays there are so many pick-ups, vans and trucks. It is not easy for them to get enough income from transport. The nomadic life has become more difficult anyhow. The development-activist organisation Upkar Sansthan helps the Luhars to get a piece of land for agriculture. And a school and vocational training.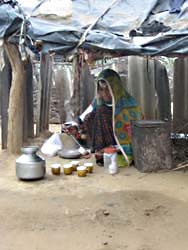 Lohar woman welcoming guests with 'chai' (milk tea).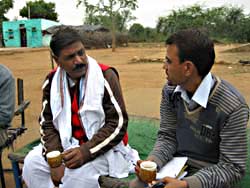 Worker of Upkar Sansthan discussing with Lohar leader (left).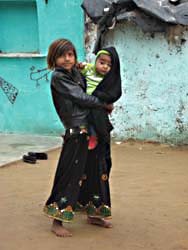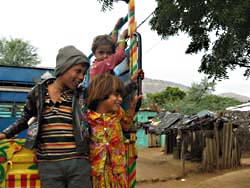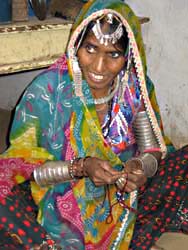 Making bracelets to get some income.
Go to next page:
Overview articles and photo series Chhattisgarh
Go to:
overview articles Rajasthan