Demonstrations
Narmada Dam Project - West India
Introduction article
download the full article
(400 KB)
big map
There were many rallies against eviction for big dams. Here some pictures of a few of them.
2008 - Khandwa
Rally at Khandwa town in the Central Indian State Madhya Pradesh, November 2008. It is against the Indira Sagar dam, one of the big dams in the river Narmada.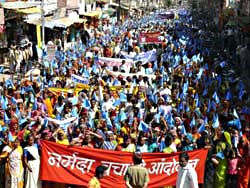 2000 - Pathrad
Rally against the construction of the Maheshwar Dam at Pathrad town in Madhya Pradesh, July 2000. It is another big dam in the same river.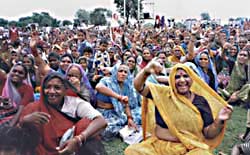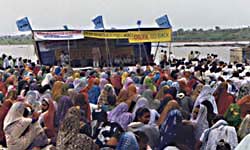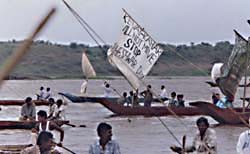 Boat Rally at Pathrad.
2000 - Toksar
Rally at Toksar, August 2000. Also against the Maheshwar dam.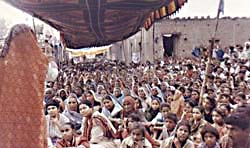 2000 Washington
Demonstration against globalisation, April 2000, Washington D.C.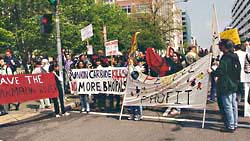 On the red banner: 'Save the Narmada River.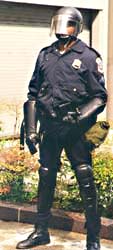 Go to next page:
photo series long marches
Go to:
overview photo series resistance Narmada Dams
Go to:
introduction article Arundhati Roy
Download the full article
The Greater Common Good
from Arundhati Roy, (400 KB)