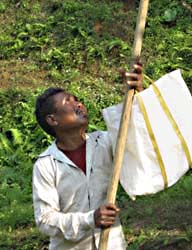 Rajat Bodo, picking the fruits of generations of hard and dedicated work.
Orange Orchard in Assam
Eighty years ago Mr. Dahiram, a Bodo tribal, established an orange orchard at Bongoan Block, Kamrup District. Nowadays the flourishing orchard is as big as 57 bigha (8 hectare) and produces not only oranges, but also betel nut, pineapples and bananas.

Apart from Gobindo Bodo, the son of the founder, seven people work here. The orchard, including a small dam for irrigation, is set up without any help of the government. Local varieties of oranges are used.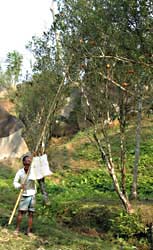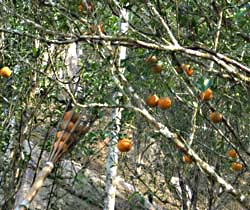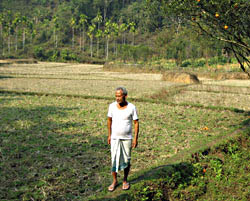 Gobindo Bodo, son of the orchard founder.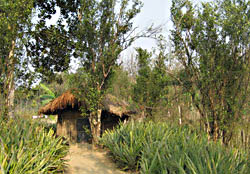 Watchman's hut.
Go to next page:
Photo series traditional way of life
Go to
overview articles and photo series Assam
Revised: February 2015 - Photos by Peasant Autonomy, May 2012 -
Creative Commons