Dams
Uttarakhand Center
For hydro electric power stations many dams are build in this region, to bring the water to tunnels. The tunnels bring the water fast to the hydro power stations. In that way, the river gives more electricity. But behind the dam the river is most of the year dry. That is a big problem for the farmers. Only in the monsoon period there is much water in the river. But then the farmers don't need the water, because it is the rain season.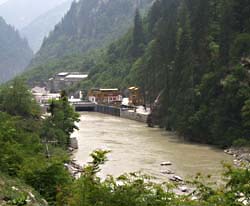 Dam in Alaknanda (Ganga) River, Chamoli district.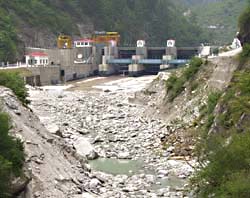 Behind the dam the river is dry, most of the year. Because the water flows by a tunnel for power generation.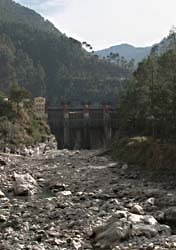 Dam at Maneri, Bhagirathi (Ganga) River. Starting point for the tunnel to Uttarkashi town.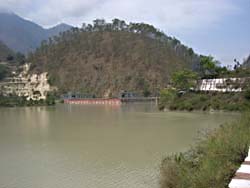 Artificial lake, by dam in the river at Maneri.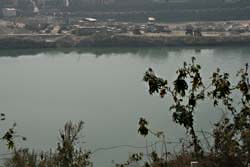 Artificial lake at Uttarkashi town, starting point for the tunnel to the powerstation at Dikoli. Earlier the lively Bhagirathi River (Ganga ) was flowing here.
Go to next page:
photo series about the construction of dams and power stations
Go to:
overview photo series about dams, tunnels and power stations