Mud on Farmers' Fields
Kudubi Padavu hamlet, Permude village, near Mangalore, Karnataka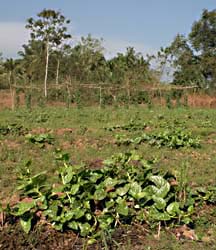 Already several generations people from the Kudubi tribe grow vegetables here to sell on the market in Mangalore.
At October 2008 the government put truckloads mud on their fields and destroyed their crops. How will the Kudubis survive without their vegetable fields?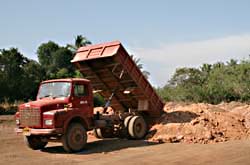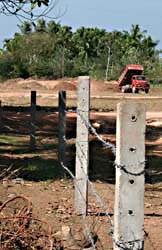 Directly the government made fences. The Kudubis could not reach their own fields, because the police would arrest and fine them for 'trespassing'.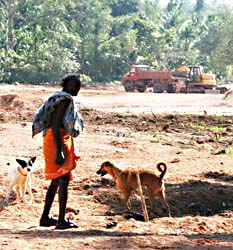 Sometimes Kudubis still go there because they need some water from their wells.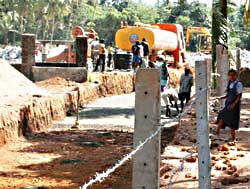 As you can see here, the well of the Kudubis is behind the fence.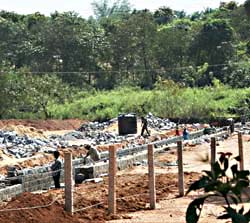 The government also constructed a big drain immediately.
From the national newspaper The Times of India
Anti-SEZ movement gains momentum
They live in fear of losing land
"PERMUDE, July 7, 2008. With monsoon over a month old, the farmers have done their bit as of now. The lush green fields speak for itself. The three crops produced in a year stand testimony to the fertility of the land. The ponds are filled to the brim and little boys are enjoying themselves. This is the village side scene, which gives one the feeling that everything is in place.
But it is not so. The people are having sleepless nights due to the fear of losing land to the Mangalore Special Economic Zone (MSEZ) projects. The mounting opposition against setting up of the projects is no guarantee that they will not lose their land.
The area houses the primitive Kudubi tribe, known for their district cultural and ethnic identity. As many as 18 Kudubi families who share the ancestral agrarian land are a worried lot as they have been served notice by Karnataka Industrial Area Development Board (KIADB) officials asking them to vacate the land. Fear of losing their livelihood, coupled with the alleged threat and harassment by officials to vacate lands, have made the life of these illiterate and under literate people a virtual hell.

'We are illiterate and poor. Agriculture is the lone source of livelihood for us. We cannot do any other type of occupation. What do we do if our source of livelihood is snatched away,' said Mallapa Gowda, a senior member of the community. He said many among them could not read or understand the content of the notices issued by the officials. 'When asked, the officials did not tell anything clearly. Instead they threatened to use police force,' he said.
Gowda said it would be the end of their life if their agrarian land were to be taken away from them. Same was the condition of Teresa Noronha who makes her living by growing vegetables. Fed up of the harassment by officials, she has put a banner saying that it was her private property and no one should trespass. Vidya Dinker of the Krishi Bhoomi Samrakshana Samithi (Agriculture Land Protection Committee) said that the KIABD officials are trying to acquire the land keeping the villagers in the dark."
Go to next page:
photo series village life before dumping
Go to
overview articles and photo series Mangalore