"That joy has gone; we should bring it back"
Yoga, discussion and songs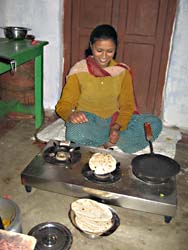 Beena Bisht, the young yoga teacher from Mallapanas village.
Mallapanas village in the Rajaji National Park near Rishikesh has jumped in meditation exercises. 45 villagers, young and old, got a course of one and a half hour for five days. They did prayers, breathing, energy and other yoga exercises and got information about a healthy and well balanced lifestyle.

Their teacher was Beena Bisht (21) from Mallapanas itself. She followed an eight day course of the 'Art of Living Foundation' in Haridwar. Beena: "It was called a 'Youth Leadership Training Program' and I was surprised it was all about yoga. But after some time I realized these exercises were very appropriate for me. I am angry so easily, but now I became more relaxed."

Beena was so inspired that she immediately organized an introduction course in her own village. "Everyone was enthusiastic. They asked me for a second course. But first I have to get more training myself." Coming year Beena will give meditation courses in many villages in the area.



'Not Enough Hands to Plow'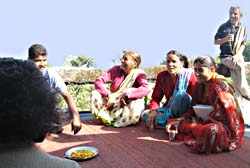 Preparation of the village meeting.
"Why do young people migrate?" It was one of the questions at a meeting of the women group in Dharkot, a village in the Rajaji National Park near Rishikesh. Sitting on the rooftop we have a beautiful view at the snow clad Himalayan mountains, and also at the small but well maintained fields.

There are many reasons for migration. Parents want good education for their children and there is no good health care in the villages even for minor diseases. The rainfall nowadays is erratic and when the harvest is meager there is not enough to eat.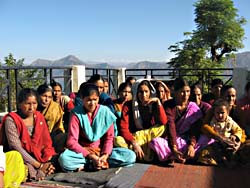 There are not enough hands to plow because many young people have migrated.
One of the village women added: "Earlier we had more land, because we have also fields higher up, near the forest. But now they lay abandoned, because there are not enough hands to plow anymore." All the women started discussing the issue with the ones next to them. Could it be possible to start agriculture again in these far off fields and ban the hunger?

Bimla Devi, one of the organizers of the women group told us we forgot one important thing: "Earlier we did sing a lot when we went to our fields. In the evening we sat together. We had a lot of pleasure. That joy has gone. We should bring it back. I remember my father going to the forest with his flute to make music and sing …"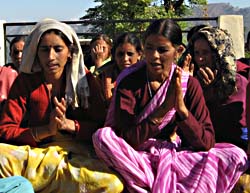 Singing together; "We should bring back the joy."
We ended the meeting singing together the song of the women group. Some pleasure is already back in Dharkot.

Photos Village Life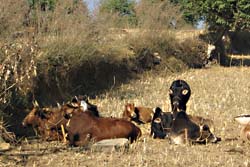 Cows on a paddy field after the harvest.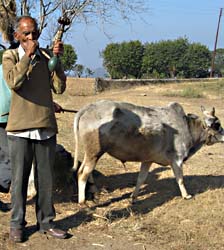 Smoking the water pipe.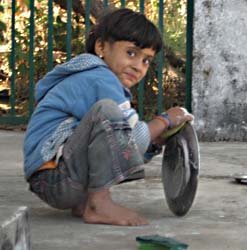 Will she migrate, or will she stay?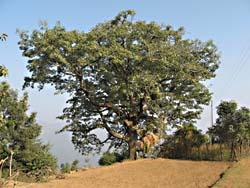 Cotton or semal tree.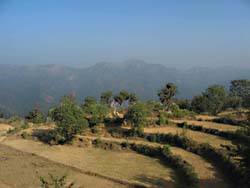 Paddy fields with Himalayas on the background.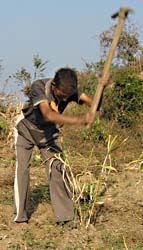 Farmer harvesting ginger roots.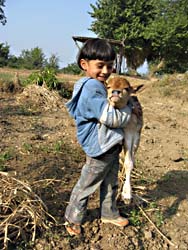 Her best friend.
Malla Banas village and Dharkot village, Yamkeshwar Block, Pauri Garhwal District, Uttarakhand.
Go to next page:
photo series about the bad road connection to the city
Go to:
Overview photo series about Kimsar
Revised: February 2015 - Photos: November 2011 by Peasant Autonomy -
Creative Commons